Create the career
you love
Are you willing to work on some amazing international projects on the best hardware that money can buy? If that excites you, join our team.
We're a group of young creatives working towards innovation in the digital world. You will be joining a place that believes in great culture, supported by creativity, sincerity and enthusiasm for the unexplored.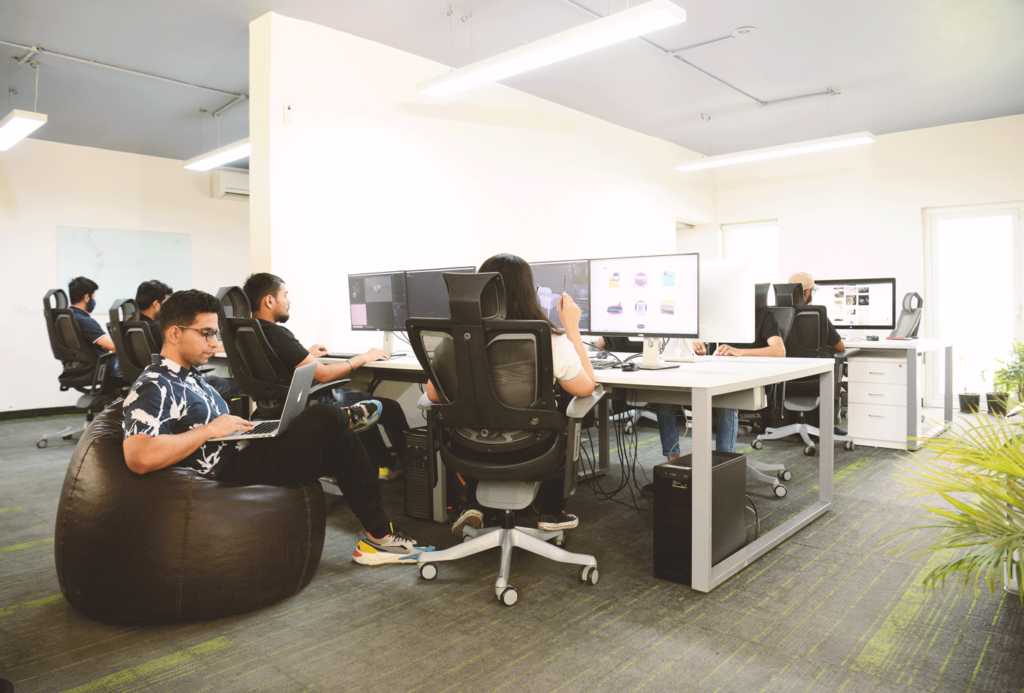 We are looking for an intermediate 3d modeler to design and build 3D models based on the specifications of your clients.
3D Modeller
We have an open position for a 3D modeler. As a 3D modeler you will be responsible for creating virtual worlds and characters. You will be breathing life into sketches and concept art. You will be working in a team with lots of other talented artists, engineers and programmers. You must be well versed with industry standard 3D modeling programs and tools. Good spatial skills and a well honed sense of color and design will help you succeed in this job.
Responsibilities
Create and manage digital assets
Interpret concept art and sketches to create virtual characters, environment and props
Follow design guidelines, asset naming conventions and other technical constraints
Prototype and iterate on models and characters based on feedback from team members
Create textures and UV maps
Optimize, refine and correct model geometry
Rig models and characters for animation
Work with artists, animators and programmers to execute projects on time
Keep abreast with the latest developments in 3D design, capture and modeling tools and technologies
Requirements
Expert level knowledge of 3D design and animation tools such as 3DS Max, Maya, Zbrush etc.
An eye for detail and good visualization skills
Ability to take feedback and make changes as required
Extensive knowledge of character design, rigging, skinning etc.
Some familiarity with animation techniques
Good communication skills
Minimum 2 years of experience in 3D design and modeling
Technical diploma in 3D modeling or a degree in fine arts
Some scripting experience will be an added bonus
We are looking for an HR manager to coordinate all administrative activities related to an organization's personnel.
HR Manager
We are looking for an HR manager to lead our HR team. You will take ownership of all HR matters across the company from recruitment to performance reviews, wage reviews, disciplinary action, and learning and development. To perform well in this role you should have experience as an HR manager, or other senior roles in the HR team, and knowledge around all legal requirements in this role.
HR Manager Responsibilities:
Consistently recruiting excellent staff.
Maintaining a smooth onboarding process.
Training, counseling, and coaching our staff.
Resolving conflicts through positive and professional mediation.
Carrying out necessary administrative duties.
Conducting performance and wage reviews.
Developing clear policies and ensuring policy awareness.
Creating clear and concise reports.
Giving helpful and engaging presentations.
Maintaining and reporting on workplace health and safety compliance.
Handling workplace investigations, disciplinary, and termination procedures.
Maintaining employee and workplace privacy.
Leading a team of junior human resource managers.
HR Manager Requirements:
Bachelor's degree in human resources management or equivalent.
Experience in human resources or related field.
Ability to build and maintain positive relationships with colleagues.
Experience in educating and coaching staff.
Experience in conflict resolution, disciplinary processes, and workplace investigations.
Experience in following and maintaining workplace privacy.
Ability to give presentations.
Knowledge of relevant health and safety laws.
Experience using computers for a variety of tasks.
Competency in Microsoft applications including Word, Excel, and Outlook.
We are looking for a UE Generalist for creating and optimizing assets to work within Unreal Engine throughout the VFX pipeline.
Unreal Engine Generalist
The Unreal Generalist is responsible for creating and optimising assets to work within Unreal Engine for Virtual Production (virtual scouting and virtual camera shoots) and throughout the VFX pipeline. An Unreal Generalist can balance the aesthetics and technical requirements of assets within the Unreal Engine. To create fantastic immersive worlds and to quickly realise ideas/concepts/generate cinematic content that matches the highest standards of current film VFX.
Minimum Requirements:
2+ years of industry experience working with Unreal Engine 4. (VFX / Game Dev).
Experience using version control (Git, Perforce).
Proficient with Unreal's Blueprint system, c++ is a bonus.
Solid lighting, shading, and layout for game engine skills.
Experience with Mari, Substance Painter, Quixel Mixer, or similar texturing software is a big plus.
Experience with procedural workflows is a plus. (i.e. Houdini, Substance Designer)
Experience with Maya is a plus.
Qualifications:
Passion for real-time rendering and creating photorealism.
Can provide portfolio work demonstrating strong technical artistic ability (composition, scale, color, light) that includes Unreal / Unity based work.
Excellent communication / interpersonal skills.
Excellent attention to detail.
Ability to improvise and adapt to shifting project goals.
Solid organization skills with adherence to file structures, naming conventions, and other established protocols.
Independent and self-driven; able to meet deadlines with minimal supervision in a fast-paced production environment.
Duties & Responsibilities:
Create world-class photoreal imagery for film and TV.
R&D cutting-edge techniques for real-time art.
Discover and document methods learned during production for creating high-quality real-time renders.
Work closely with other artists and technicians to ensure parity between DCC packages and Unreal.
Flag and troubleshoot rendering bugs.
Profile and optimize scenes to meet the project requirements without sacrificing visual fidelity.
Develop shaders, tools, FX, modules, and/or various assets for the internal library.